[ad_1]

At least a dozen lawmakers are now self-quarantining out of an abundance of caution after two members of Congress revealed Wednesday night they were the first national legislators to test positive for the novel coronavirus.
Representatives Mario Diaz-Balart (R-Fla.) and Ben McAdams (D-Utah) said they developed symptoms on Saturday and tested positive for COVID-19, the name of the disease caused by the virus. Both are currently self-quarantining.
The congressmen were in the U.S. Capitol surrounded by hundreds of their colleagues on the House floor early Saturday morning when the chamber passed legislation—that's since been signed by the president—to provide some American workers with paid sick leave. A representation of the ripple effect that's resulted from the positive tests, several members—including the No. 2 House Republican—have isolated themselves from others in case they develop symptoms.
That incorporates Reps. Tom Cole (R-Okla.), Stephanie Murphy (D-Fla.), Frederica Wilson (D-Fla.), Kendra Horn (D-Okla.), Ann Wagner (R-Mo.), Kathleen Rice (D-N.Y.), Steve Scalise (R-La.), Drew Ferguson (R-Ga.), Joe Cunningham (D-S.C.), Anthony Brindisi (D-N.Y.), David Price (D-N.C.) and Julia Brownley (D-Calif.). Other lawmakers, including Sen. Cory Gardner (R-Col.), are also self-quarantining after coming into contact with other infected people.
"Since I had an extended meeting with [Diaz-Balart] late last week, out of an abundance of caution, I have decided it would be best to self-quarantine based on the guidance of the Attending Physician of the United States Congress," Scalise, the minority whip, said in a statement.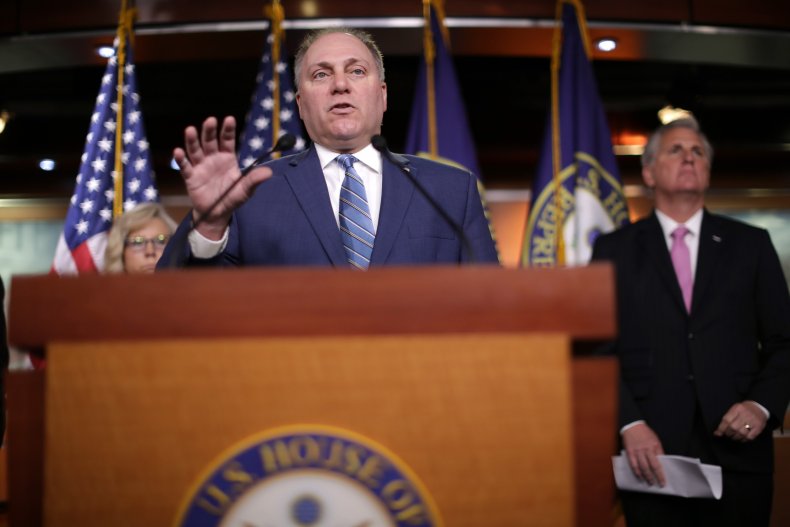 With two members now carrying COVID-19 and at least a dozen more exposed to the virus, lawmakers' calls for Congress to shut down entirely and work remotely have been amplified. Many legislators are also older, rendering them more vulnerable to contracting the illness. The pressure on leadership to act is increasing.
"I don't know how you can have two members of Congress, as far apart as Utah and Florida, have the virus, and not be seriously considering that type of an arrangement," Sen. Kevin Cramer (R-N.D.) said of having lawmakers vote remotely. Behind him, Sen. Mitt Romney (R-Utah) opened a door using a combination of his sleeve and his foot so as to avoid hand contact. "At some point, our example has to be not just showing up for work but showing up smart for work."
Adding to the pressure was Dick Durbin (D-Ill.) and Rob Portman (R-Ohio), who introduced a bipartisan resolution Thursday to mend the rules to allow remote voting for the next 30 days.
"Yes, it is new. Yes, it's different. Yes, it reflects the 21st century and reflects a challenge the likes of which we've never seen," Durbin said on the floor. Portman added in remarks of his own that it was "time for us to turn to this."
But leaders in both chambers have refused to embrace drastic changes, including the never-before-done notion of voting on future legislation remotely. Senate Majority Leader Mitch McConnell (R-Ky.) has vowed to keep his members in session until they pass a third, massive economic stimulus package that's expected to exceed $1 trillion and include individual checks to Americans. House Majority Leader Steny Hoyer (D-Md.) said they're considering changes but have not yet made any.
"It is my intention that the House will not return to session until we are in a position to vote on the third piece of emergency legislation to respond to the economic impact of this crisis," Hoyer said in a letter to House Democrats, who remain on recess.
There have been talks about future changes in the Senate, according to several lawmakers, though no plans to send members home and shutter the Capitol, which is already closed to the general public. McConnell stretched the duration of votes on Wednesday to allow for more effective social distancing and has moved Republicans to a larger room for daily meetings. Senate Democrats have moved their in-person meetings to conference calls.
Still, some members have yet to show extensive concerns, even those who've had to previously self-quarantine.
"It's important we stay functioning here," said Sen. Lindsey Graham (R-S.C.), who isolated himself from others after meeting with a Brazilian aide who tested positive. "We just got to keep functioning. We have to adjust."
Senator Ted Cruz (R-Texas) returned to the Capitol for the first time Wednesday after self-quarantining inside his home, maintaining at least six feet of distance between himself and family members. He was previously in contact with two people who later tested positive for the virus.
"It's different than sitting in the lunchroom and hearing the concerns of your colleagues firsthand, and so I'm glad to be back," Cruz said.
[ad_2]

Read more…