[ad_1]

Former Vice President Joe Biden's campaign team criticized President Donald Trump on Saturday, accusing the president of trying to "rewrite history" on his "failed" leadership on tackling the coronavirus outbreak.
"In a moment of crisis like this, Americans need strong, steadfast leadership, and a President who [levels] with the American people about the challenges we face and the path forward," Kate Bedingfield, the deputy campaign manager and communications director of the "Biden for President" campaign team said.
"But instead of taking charge and taking responsibility," Bedingfield said, "Trump has passed the buck and failed to lead, making us more vulnerable at a precarious moment when we most need a President who will be honest with the American people and focus on actual results."
Bedingfield made the comments in a press release on Saturday, with Biden's campaign team asserting that Trump has repeatedly tried to "rewrite history and mislead Americans about his response to this crisis."
Newsweek has contacted the White House for a response to the Biden campaign team's comments.
Biden's campaign team specifically took aim at Trump's apparent efforts to lay blame for the global spread of COVID-19 on China's shoulders while dismissing claims made in a bombshell report from The Washington Post asserting that the president and top aides had ignored repeated warnings from the intelligence community about the new coronavirus.
Citing one intelligence official and several Trump administration officials, who spoke only on the condition of anonymity, The Post said many within the Trump administration were aware in January and February of the threat posed by COVID-19.
"Donald Trump may not have been expecting this, but a lot of other people in the government were — they just couldn't get him to do anything about it," one official said. "The system was blinking red," they added.
According to The Post, officials were alerted to reports on cases of coronavirus in Wuhan, China, as early as January 3, after a director at the Centers for Disease Control and Prevention had discussed the issue with counterparts in China.
Despite repeated "ominous" warnings, however, Trump and his administration failed to act, the report says.
Instead of responding to the claims made in newspaper's report, Trump, Biden's campaign team said, has tried "to evade responsibility for his negligent, late, disjointed and ineffective response to the coronavirus."
"This time, Trump complained, 'I wish [China] could have told us earlier about it because we could have come up with a solution.' He also said, "if we had a two or three-month difference in time it would have been much better' — even though Trump wasted critical time ignoring U.S. government medical and intelligence experts and downplaying the risk of the coronavirus."
Asked about report on Saturday, Trump dismissed its claims as "inaccurate," asserting, "The Washington Post covers us very inaccurately, covers me very inaccurately. I saw the story. I think it's a disgrace but it's The Washington Post and I guess we have to live with it. It's a very inaccurate."
The president then sought to turn the focus on to China and its role in the outbreak.
"Yet again," Biden's campaign team said, Trump was trying "to hide the crucial fact that, as his own officials, ranging from scientists to spy agencies, spent months sounding the alarm about this rapidly-growing threat to the health of the American people, he regularly made false statements about public safety and minimized the danger of this global pandemic."
Noting that the president had previously lauded the "Chinese government's response, even singling out their transparency for praise," the Biden campaign team said that "now, with criticism of his response mounting, Trump is returning to his well-worn playbook by attempting to shirk responsibility."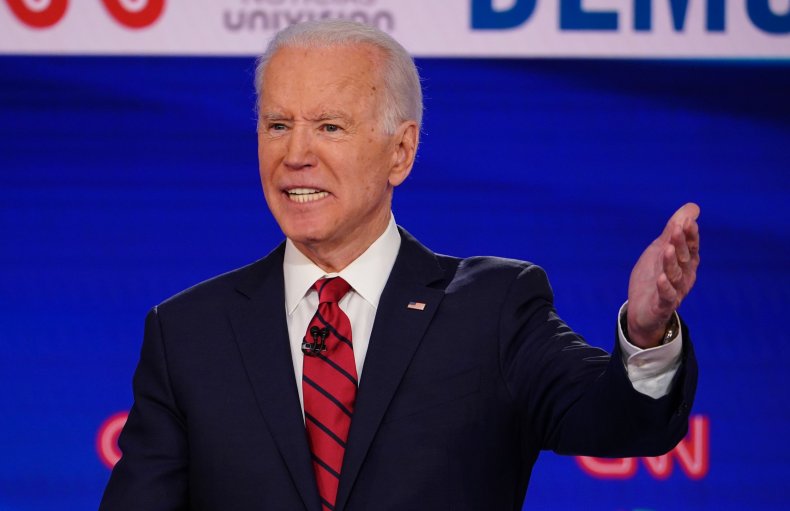 The president has faced growing criticism over his handling of the coronavirus outbreak, with confirmed cases in the U.S. appearing to more than double since Thursday, according to an online tracker maintained by the Johns Hopkins University. Possible cases have doubled due to expanded testing, with officials warning that cases would likely appear to rise due to efforts to boost testing across the U.S.
Biden and his campaign team have repeatedly taken aim at Trump over his handling of the COVID-19 outbreak, with the former vice president asserting earlier this week that the president's "re-election" would "forever" hurt Americans.
"The White House is no place for on-the-job training," Biden wrote in a tweet. "Donald Trump's handling of the coronavirus has made that even more clear."
Instead, Biden said, "We need a president who is ready to clean up his mess, take responsibility, and lead us forward on day one," the former vice president tweeted Saturday.
[ad_2]

Read more…