[ad_1]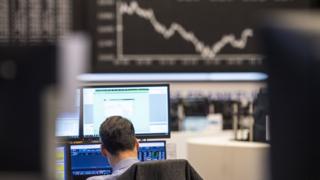 Global stock markets have fallen sharply as investors continue to worry about the broader economic effects of the coronavirus.
London's FTSE 100 share index fell more than 3% and there were similar declines in other European markets.
Earlier on Friday, markets in Asia had seen big falls, with Japan's Nikkei share index dropping by 2.7%.
On Thursday, US stock markets recorded steep declines, with all three main indexes down by more than 3%.
The 3% drop in the FTSE 100 wipes out the gains seen earlier this week on the index.
Shares in travel companies saw some of the steepest falls once again. Cruise operator Carnival fell 5.8% to hit its lowest price since 2012.
Other big losers in the sector included EasyJet, Tui and British Airways owner IAG, which each fell more than 4%.
Elsewhere in Europe, shares in budget carrier Norwegian fell 26.2% and Air France KLM, which owns the French and Dutch flag carriers, fell 14.6%.
Banks were another group that took a hit, as investors anticipate that interest rates might be cut in order to make borrowing cheaper for companies and consumers to keep the economy buoyant.
"The markets didn't even bother with the pretence of a calm start on Friday, bringing another rough week to a close," said Connor Campbell, analyst at financial spread better Spreadex.
"The week's various central bank rate cuts only served to reinforce the seriousness of the situation."
Earlier this week, the Federal Reserve, the US's central bank, cut its benchmark interest rate by 0.5 percentage points to a range of 1% to 1.25% in an attempt to ease investor concerns.
Government bond prices are rising in the UK as traders seek safer assets.
The bond market – which is many times larger than the stock market – includes tradable loans to governments and businesses. Yields – how much investors will recoup in interest from the loans – drop as the price of the loan rises.
Benchmark 10-year UK government debt now only offers a 0.26% return – a record low.
What do I need to know about the coronavirus?
Oil prices also fell, declining 2% as investors worried that Russia may not agree to a cut in production that other members of the Opec oil producers' cartel are keen to see.
The price of oil has fallen by about a quarter since the coronavirus began to spread internationally, with demand for fuel expected to decline.
Brent crude was down 4.3%, at $47.84 per barrel on Friday, the first time since 2017 the commodity dropped below $50.
US West Texas Intermediate was 4.5% lower at $43.82 per barrel.
There's also been a sharp drop in share prices in Moscow. Its RTS index fell 5.25%, led by airline Aeroflot and its 6% fall. Energy giants Gazprom and Lukoil both fell more than 4%.
[ad_2]

Read more…