[ad_1]

A young child in a Chinese district where residents are banned from going outside over the deadly COVID-19 outbreak reportedly remained in the home and watched his grandfather die.
Guo Ruibing of the publicity department for the district of Zhangwan in the city of Shiyan, which has adopted "wartime measures," said an elderly man was found dead at his home on Monday afternoon. The man was identified only by his surname, Tan.
The deceased's grandson was at the property at the time, The Guardian reported citing local media. The child is thought to be five or six years old.
Claims circulated online that the man had died a number of days before, and his grandson sustained himself on cookies. The boy told community workers he didn't leave because his grandfather told him not to as "there is a virus outside."
Guo told government-linked media outlet Hongxing News that the cause of Tan's death and when he died are under investigation. He said Tan's temperature was normal before he passed away.
It was not possible Tan had died days before, Guo said, as community workers who make daily rounds in the locked-down district would have spotted him.
The district has put the child into care as the boy's father is in Guangxi province, south China, due to travel restrictions in place to prevent the spread of COVID-19.
On February 13, Zhangwan district adopted "wartime measures" in a bid to stop the spread of COVID-19 which has killed over 2,700 people. Officials banned anyone not directly involved in tackling the disease from leaving their homes, with buildings and residential areas closed off. All-day security patrols were put in place, with those who break the rules warned they will be "detained without exception."
The state-run Global Times newspaper reported the order would be in place for 14 days, during which time neighborhood committees would deliver essential items to residents at set times with set prices, and help people buy medication they urgently need.
Since the outbreak started late last year in Wuhan, the capital of Hubei, most deaths have occurerd in the province, at 2,615 of the total 2,762 fatalities. As shown in the map by Statista below, the virus has reached almost 30 countries and territories, including the U.S., Russia, and Egypt, with new cases confirmed in Afghanistan, Bahrain, Iraq, and Oman in the past day.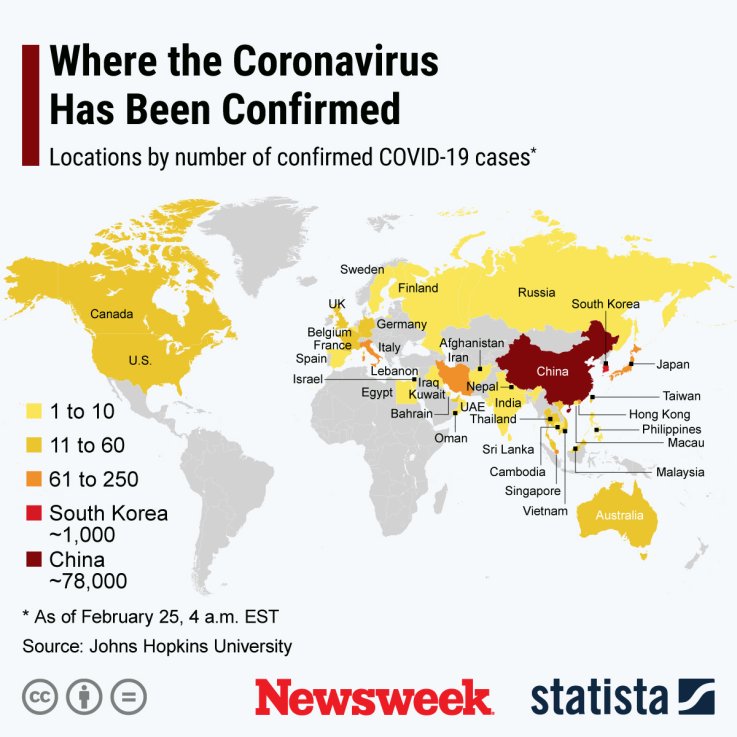 In recent days, the spread of COVID-19 in countries including South Korea, Iran and Italy has prompted fears the window of opportunity to control the outbreak could be closing, and a pandemic could be on the horizon.
However, on Monday, World Health Organization director-general Tedros Adhanom Ghebreyesus said: "Our decision about whether to use the word 'pandemic' to describe an epidemic is based on an ongoing assessment of the geographical spread of the virus, the severity of disease it causes and the impact it has on the whole of society."
He said: "Does this virus have pandemic potential? Absolutely. Are we there yet? From our assessment not yet."
David Heymann, professor of Infectious Disease Epidemiology, London School of Hygiene and Tropical Medicine, argued on Monday that "terms such as pandemic are distracting."
Heymann argued: "What is necessary is to understand the current situation in each country," adding: "It is for WHO to determine when the outbreaks should be called a pandemic and they will do this based on information from many different sources."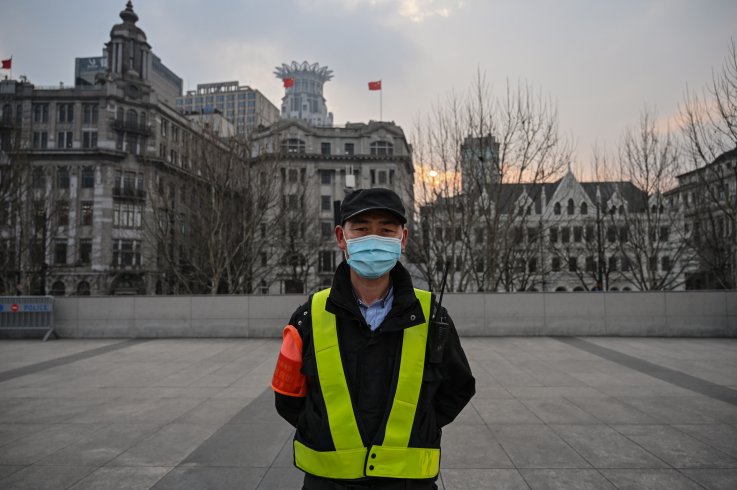 [ad_2]

Read more…