[ad_1]

In less than two months, a new coronavirus infected nearly 47,000 people in 25 countries, killing more than 1,360 people.
On Thursday, the World Health Organization (WHO) confirmed an additional 1,826 cases and 254 more people lost their lives to COVID-19, the virus' official name. It's taken the biggest toll on people in China, where the virus originated, and only six of the new cases involved people from outside of China.
In addition to the 1,826 new cases, WHO said China reported 13,332 clinically diagnosed cases were from the Hubei Province, where Wuhan, the epicenter of the outbreak, is located. However, those cases aren't included in the total numbers because WHO only reports laboratory-confirmed cases.
In countries other than China, Thailand was the first country to confirm a case to WHO and, since that January 13 report, it has identified the virus in 32 more people. Singapore has had the most non-China cases, 50, followed by Japan with 29, South Korea with 28 and Malaysia with 18. Other cases, per WHO's Thursday report, include:
Vietnam, Germany: 16
Australia, United States: 15
France: 11
United Kingdom: 9
United Arab Emirates: 8
Canada: 7
Philippines, India, Italy: 3
Russia, Spain: 2
Nepal, Sri Lanka, Finland, Sweden, Cambodia: 1
Of the 447 non-China cases, 170 people had a travel history to that country, according to WHO. Twenty people in six countries—the United Kingdom, France, Malaysia, Singapore, South Korea and Spain—contracted the virus during a conference held in Singapore between January 20 and January 22 and a subsequent ski trip to the French Alps. Fifteen people also became infected after a conference in Bavaria, Germany.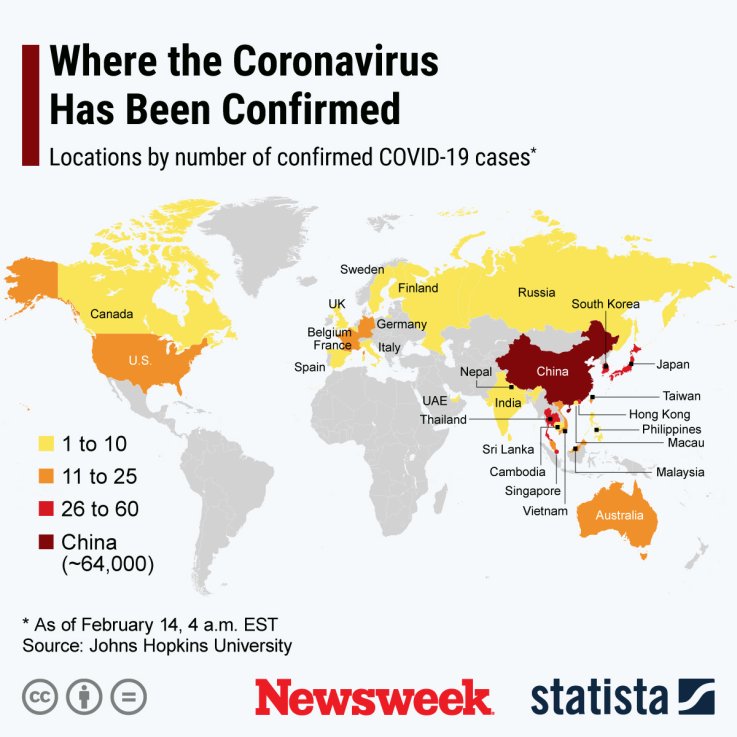 Since this is the first time the virus has been detected in humans, researchers are still learning how it operates. A big question on people's minds was whether people could pass the virus to someone else when they were asymptomatic, meaning they weren't experiencing symptoms. On Thursday, Dr. Robert Redfield, director of the Centers for Disease Control and Prevention, confirmed to CNN that asymptomatic transmission was possible.
"What I've learned in the last two weeks is that the spectrum of this illness is much broader than was originally presented," Redfield said. "There's much more asymptomatic illness.… What we don't know though is how much of the asymptomatic cases are driving transmission."
Sixteen people outside of China who tested positive for the virus did so while "apparently asymptomatic," according to WHO.
Moving forward, WHO said the agency was focused on reducing human-to-human transmission and preventing further international spread. They'll also "address crucial unknowns" about clinical severity, how the virus spreads, treatments and vaccines.
[ad_2]

Read more…