[ad_1]

A senior Department of Health and Human Services (HHS) whistleblower claims she was unfairly and improperly reassigned after raising concerns about the lack of training, protective gear given to a dozen workers who assisted American coronavirus evacuees.
The official, based in Washington, who oversees employees at the HHS' Administration for Children and Families (ACF), filed a complaint with the Office of the Special Counsel, an independent federal watchdog agency, on Wednesday.
Her lawyers provided the Washington Post with a redacted 24-page copy of the complaint, which alleges that over a dozen workers were sent to receive the first U.S. citizens evacuated from Wuhan, China without adequate protective gear or training. "Appropriate steps were not taken to quarantine, monitor, or test [the workers] during their deployment and upon their return home," the complaint said.
The whistleblower, who has not been named, is now seeking federal protection because she claims her employer reassigned her unfairly and improperly after she bought her concerns to HHS officials, which included some working with HHS Secretary Alex Azar. According to the Post, she says she was given 15 days from February 19 to accept the new position or else she would lose her job.
HHS workers were "not properly trained or equipped to operate in a public health emergency situation," she alleges in the complaint, adding that they were "improperly deployed." Because of this, the whistleblower alleges that the staffers could have been exposed to the coronavirus as they had face-to-face contact with the passengers in an airplane hangar and adequate steps had not been taken to ensure their safety.
Newsweek reached out to the Office of the Special Counsel for comment, but did not receive a response in time for publication.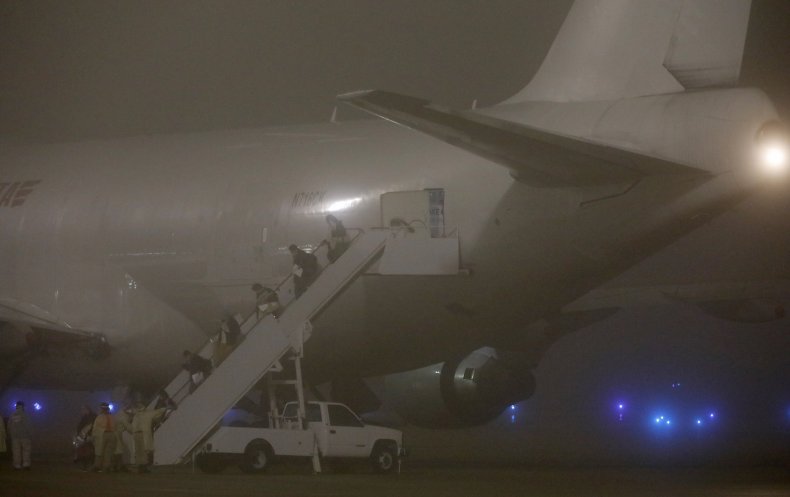 "We take all whistleblower complaints very seriously and are providing the complainant all appropriate protections under the Whistleblower Protection Act. We are evaluating the complaint and have nothing further to add at this time," said Caitlin Oakley, an HHS spokesperson, according to the Post.
The whistleblower's lawyer, Ari Wilkenfeld, and her complaint said roughly 14 employees from her ACF department were sent to receive passengers arriving into the March Air Force base and an additional 13 to the Travis Air Force base, both in California. Those American Wuhan evacuees, who were deemed at high risk to contract the disease, were then quarantined in California and Texas military bases.
The whistleblower's lawyers maintained that the employees were not tested for coronavirus as they didn't show symptoms that indicated they may have been infected.
Worldwide cases of the coronavirus, that causes the disease COVID-19, totalled 82,446 on Thursday morning, a roughly 1,000 increase from the previous morning, according to a tracker maintained by Johns Hopkins University. Nine new countries announced their first cases today, which has increased the total number of countries infected to 47.
Eight of the nine countries—Norway, Georgia, Denmark, North Macedonia, Brazil, Romania, Estonia and Greece—reported one confirmed case, while Pakistan reported two.
President Donald Trump on Wednesday announced that Vice President Mike Pence would lead the U.S. coronavirus response during a press conference. Although Pence will be in charge of the White House Coronavirus Task Force, he will still report to Trump. Azar has been tapped as the task force's chairman.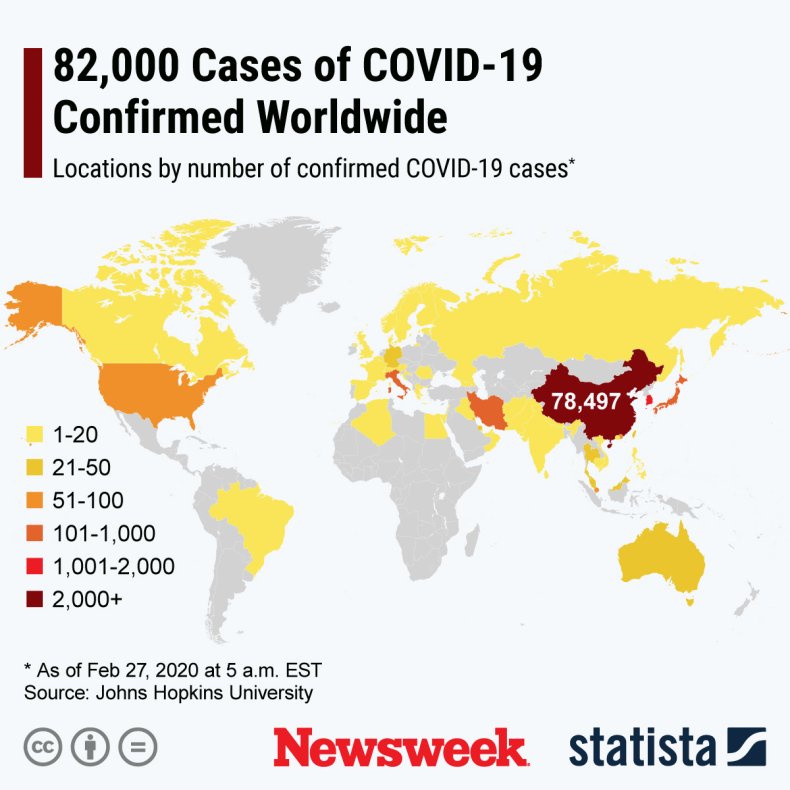 [ad_2]

Read more…