[ad_1]

DJ D-Nice will host a live-streamed "Couch Party" in partnership with former First Lady Michelle Obama's When We All Vote nonprofit organization.
D-Nice tweeted that he would go live at 6:30 p.m. EST on Instagram Live and play a set while volunteers assist eligible voters to make sure they're registered to vote. He also included a link to When We All Vote's signup form, which gives volunteers more information and lets them sign up to text eligible voters.
Obama tweeted her excitement that D-Nice was going to help keep volunteers pumped while reaching out to voters. "In this tough time, music can comfort us and bring us together," the former first lady wrote. "That's why I can't wait for the @WhenWeAllVote #CouchParty with a featured live set from @djdnice! He'll keep our volunteers motivated with some tunes as they help register voters. Thanks @djdnice for all you do!"
For those looking to tune in and see D-Nice's set, keep an eye out for when he goes live on Instagram at 6:30 p.m. EST. His set will also stream on When We All Vote's Facebook page. Anyone looking to volunteer and send texts for When We All Vote can register on the organization's website. There will be a kick-off call at 6 p.m. on Facebook and Zoom. When We All Vote is looking to reach over 50,000 voters by 9 p.m. The Couch Party is a way for volunteers to make a difference while social distancing due to the coronavirus.
"From a safe distance, we can still make an impact together to ensure that people are registered and ready to vote," the registration page states.
When We All Vote did not immediately respond to Newsweek's request for comment.
D-Nice did not immediately respond to Newsweek's request for comment.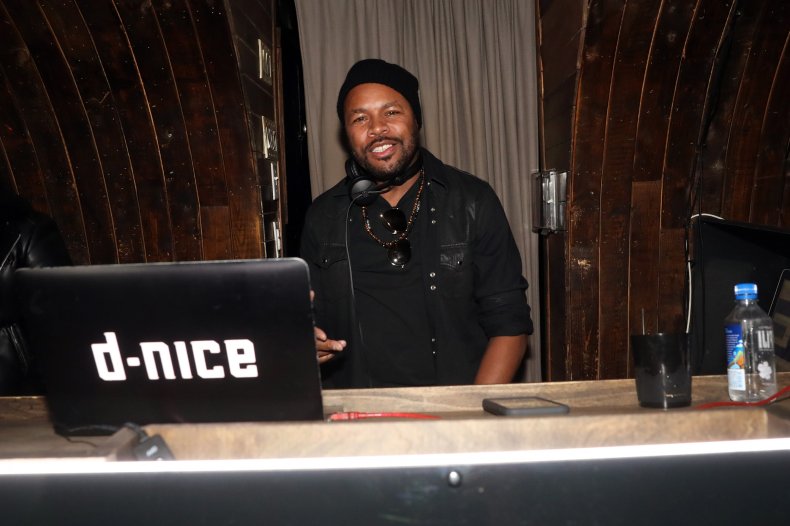 The Couch Party isn't D-Nice's first self-isolation event. On Saturday night, he hosted "Homeschoolin': A Social Distancing Dance Party" on his Instagram. According to Complex, the party drew over 100,000 viewers, including Rihanna, Bernie Sanders, Dwayne Wade, Janet Jackson, Mark Zuckerberg and, of course, the Obama matriarch.
"Music is a vibration. It is a universal language. It is who I am. It is what I do as a DJ," D-Nice told All Hip Hop recently. "It is a part of my life's purpose to help people relax and enjoy themselves. What was just a whim has become a movement in less than 4 Days. I am honored by love and support."
[ad_2]

Read more…