[ad_1]

COVID-19, a new coronavirus known to cause pneumonia, has infected more than 75,000 people and killed more than 2,000 since it was first identified in humans in December.
On Thursday, a Johns Hopkins University tracker indicated there was an increase of nearly 2,000 cases since the previous day's situation report by the World Health Organization (WHO). The vast majority of the new cases involved people in China, where the virus originated and had the greatest impact.
WHO reported 72,528 cases were in China, including Hong Kong, Macau and Taiwan, on Wednesday afternoon. By Thursday morning, that number had risen to 74,284, according to the Johns Hopkins tracker. Singapore, Japan and the United States also had an increase in cases of four, nine and 14 respectively, bringing total cases up to 81, 74 and 29.
Cases listed on the tracker within the U.S. include 15 people that the Centers for Disease Control and Prevention confirmed to have the virus and 14 people who were evacuated from the Diamond Princess cruise ship that was quarantined off the coast of Yokahama, Japan.
The State Department repatriated over 300 U.S. citizens and their immediate family members from the ship on Sunday. They began a 14-day quarantine when they arrived in the U.S. and will be monitored for symptoms of the virus.
WHO initially only reported cases that were confirmed by laboratory results, but on Monday, it announced that its future situation reports will also include people who were clinically diagnosed. The new parameter accounted for an almost 20,000 jump in cases from Sunday's report to Monday's.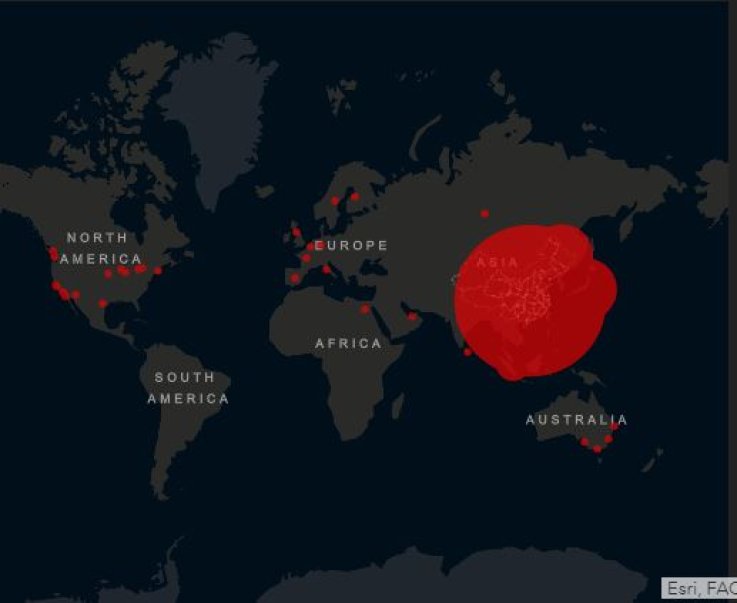 This change in case definition could be beneficial to understanding the larger impact of the virus on the population, Dr. William Schaffner, a professor of preventive medicine and infectious diseases at Vanderbilt University Medical Center, told Newsweek. However, it goes against "epidemiology 101," according to Schaffner, because redefining what constitutes a "confirmed case" makes it more difficult to assess the situation.
"If you change the ground rules, everybody looks at the data, and we're scratching our heads," Schaffner explained. "We're skeptical that we can draw reasonable conclusions. Is the epidemic continuing? Is it increasing? Is it waning? We can't tell because the case counts vary over time."
Overnight, the death toll from the virus increased from 1,873 deaths, as reported by WHO, to 2,012, according to the tracker. Of those deaths, 1,921 were in the Hubei province, where Wuhan, the virus' origin city, is located. Only three deaths from the virus have occurred outside of China—one each in France, the Philippines and Japan.
As of Thursday, all but two continents—Antarctica and South America—have reported cases of the new coronavirus.
[ad_2]

Read more…