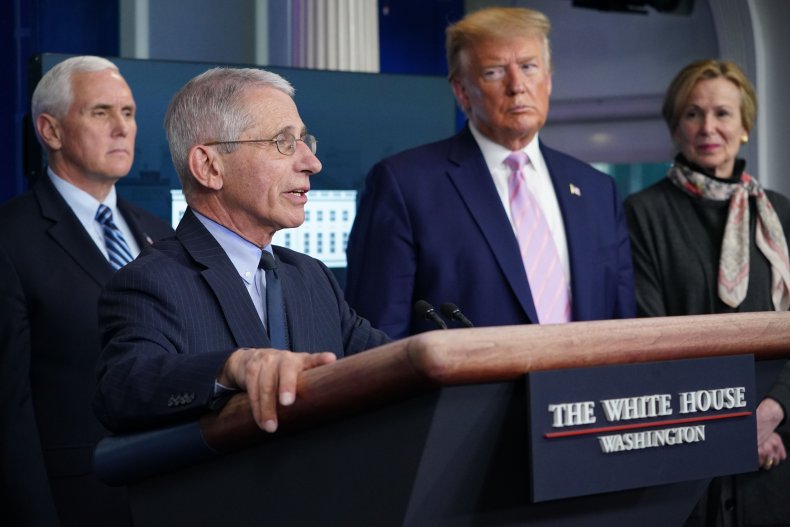 Over 1,000 people in the United States died in a 24 hour span from the novel coronavirus.
The Johns Hopkins Coronavirus Resource Center, which tracks confirmed cases of COVID-19 around the globe and deaths during the pandemic, stated that a total of 1,040 people died by 10:25 p.m. on April 1, according to USA Today. That brings the total number of deaths in the U.S. to 5,137. There are 216,722 confirmed cases of the novel coronavirus in the country as of this publication.
New York, the epicenter of the novel coronavirus in the United States, accounted for about half of the deaths in the country with 505, according to Worldometer's coronavirus tracking website. New Jersey accounted for the second most with 88 deaths. The next three states with the highest death numbers were Michigan, Illinois and Louisiana, with 88, 78 and 42 deaths, respectively.
President Donald Trump said at his daily coronavirus briefing Tuesday that the upcoming two to three weeks would be "rough" for the country.
"This is going to be one of the roughest two or three weeks we've ever had in our country. We are going to lose thousands of people," Trump said. "When you see 173 people died in New York yesterday…we've never seen numbers like that."
Dr. Deborah Birx, who is the response coordinator on the Coronavirus Task Force, said Tuesday that modelers had the potential death toll resulting from the novel coronavirus at approximately 100,000 on the low end and 250,000 on the higher end if mitigation guidelines are followed by Americans across the country. That is down from 1.5 million to 2.2 million deaths if no social distancing guidelines were implemented.
Dr. Anthony Fauci, the director for the National Institute of Allergy and Infectious Diseases, said at the Tuesday briefing that even if mitigation guidelines are being followed, Americans should not be surprised if the death toll continues to rise.
"So what we are going to see, and that is why we have got to brace ourselves, in the next several days to a week or so, we are going to continue to see things go up. We cannot be discouraged by that because the mitigation is actually working and will work," Fauci said.
The president and the task force extended the social distancing guidelines through April 30 in order to continue slowing the spread of the highly contagious novel coronavirus. Vice President Mike Pence, and leader of the task force, echoed the sentiment that Americans heed the health officials' guidelines Wednesday.
"Our priority right now is ensuring that every American takes the 30 days to slow the spread to heart. The best thing we can do for one another, for our family's health, for the most vulnerable among us, is the practice of those mitigation strategies that the president outlined yesterday for the next 30 days," Pence said.
Read more…
25 Total Views
1 Views Today