[ad_1]

With more than 118 infections and 18 deaths in the greater area as of Sunday, Seattle is the center of the worst coronavirus outbreak in the United States, and the first city in the country to be hit by it. To fight the spread of the virus, Seattle has begun an aggressive plan using partnerships with Google, Microsoft, Amazon to permit employees to work from home and the Bill and Melinda Gates Foundation to help fill the need for broad virus testing.
The virus there quickly became not just a healthcare emergency, but also an economic one. Seemingly overnight, the city was transformed as more than 100,000 people began telecommuting. But as the tech workers stayed home, small businesses and hourly workers who rely on them began to see an immediate decline in business. Officials then had to balance protecting the city's 12,000 workers with providing continued services for the most vulnerable populations, including nearly 18,000 children who rely on schools for meals.
"I think that this event is probably one of the most transformative and consequential events that our region and our country will experience in a very long time," said Mayor Jenny Durkan.
Newsweek spoke with Durkan, a Democrat, on Monday to discuss her administration's response to COVID-19.
Answers have been edited for brevity and clarity.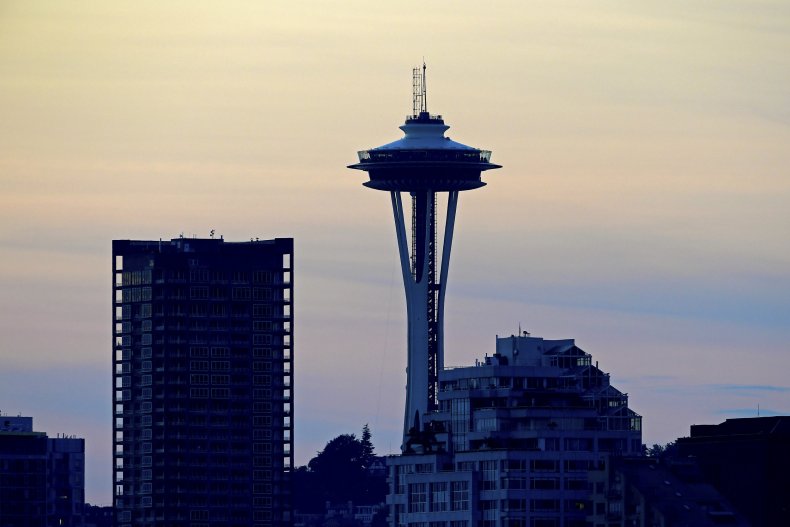 Q: How has your day-to-day changed? What is it like being in the middle of this?
A: The scope and scale of this is more than anyone contemplated and it becomes rather rapidly the most important thing we are focusing on as a city. It becomes incredibly complicated because it involves public health, the health of the economy, what are the operational things the City of Seattle has to do as an employer, what are the things that the city has to do to keep its small businesses and residents safe, and then support the first responders and healthcare workers.
We are very fortunate that Seattle has some of the most innovative companies in the world with some of the best researchers and thinkers. We have a very sophisticated healthcare system and health research centers here. We are at the point now where there is a great private-public partnership so we can outsource some of these very complicated issues in a way where experts can come back to us with data, information, and recommendations.
And we are doing it in a way that learning lessons can be translated to other cities, counties, and states that are a little behind us, but may quickly catch up to us.
Q: You talked about the strong private-partnership, can you expand on how and why you're partnering with private industry to respond to COVID-19?
A: There is a broad range of organizations, and we're getting to the point where we can outsource. For example, having research scientists here who are connected with other organizations who can do some very sophisticated epidemiological modeling for us. This is very important because Seattle has suffered from something that hopefully other regions won't have to: the lack of testing. It's something that hampered us in several ways.
Number one, we didn't see how quickly the disease was spreading, because of the lack of testing. Second, we were unable to determine the breadth of the spread in the community, so it was harder to develop strategies. So we had to rely on the research scientist and modeling, to take research they were doing…we're looking to them to do some modeling, and we're going to partner with the Bill and Melinda Gates Foundation and the University of Washington to rapidly expand the ability to do broader scale testing.
On the economic side, we announced a partnership with King County and a number of our businesses to create a fund to help small business workers. Some small businesses have been impacted as large employers move to a remote work model.
Q: Do you see the initial inability to roll out broad-scale testing as problematic?
A: There is no question about it. I would say the number one obstacle in the first week or two was an inability to do broad-scale testing. First, we missed how broadly it was spread in the community. Second, once we did it we weren't even able to test people we knew had been exposed. The restrictions were so limiting, but even when they removed the restrictions on travel, we didn't have enough test kits. For example, the senior center, where we had the large outbreak, there was not the ability to test every patient and test every worker. If we have healthcare workers that have direct exposure, you want to know if they have contracted a disease. Because we don't know what the actual number of infected people is and don't know what the denominator is, it is harder for us policymakers to determine what steps to take to first contain and then mitigate. We are in a hybrid phase where we still want to contain as much as possible but we also know we are in a broad mitigation stage.
Q: A long time Seattle resident said: "We were unlucky we were first, but lucky how the city has responded." For those who aren't in Seattle, how would you explain what the city is responding too?
A: We are a pretty gritty city when it comes to being resilient and being able to take some hard blows and keep going. If you speak to any doctor or epidemiologist, they will say we are in the first stages of a marathon. The first part has been our large employers responding by allowing their employees to telecommute—resulting in thousands of less people coming into the city and helped reduce the spread. But we know that there are more significant restrictions on how we live our day-to-day lives coming, and it is going to take the city pulling together in a really concrete series of ways to make that work. I have every confidence we can do that. It is going to be a long haul and we will be changed when we come out at the end of it. But we will come out. We will rebuild and be strong.
Q: COVID-19 has exposed the inequity in communities. Seattle schools, for example, have 17,535 students who qualify for reduced or free meals. How are you balancing minimizing contact, while doing things like keeping schools open to provide services to the most vulnerable members of your community?
A: We knew at the outset that we had a similar problem showing up in both our healthcare system and in our economic system. That this virus and the results of it were going to disproportionately hit people that are vulnerable. In the healthcare system, that meant people who were 60 and older and people with underlying health conditions or people without access to good healthcare. On the economic side, that meant those employees and communities who were most marginalized and either minimum wage workers or big economy workers who are not going to have any economic resilience. And so, we have really consciously tried to choose strategies that take those things into account on both the healthcare side and the economic side.
For example, the city will be announcing a range of packages to make sure that power doesn't get disconnected—and we are looking into deferred payment on utilities. That if a school closes—working with the state and the county—we are discussing how to make sure that people who rely on the free and reduced lunch have access to food. A large part of our healthcare workers have kids who are in the schools, if those schools close, then they don't have childcare. You'd be pulling people from the healthcare workforce, which we don't want to do in the middle of a healthcare emergency. So—a whole range of issues related to schools which are such a microcosm of where we are in our society and which very much reflect the deep inequities of our new economy and our old economy.
Q: You met with the Vice President last week, is the federal government offering any aid that can help solve immediate and long term problems?
A: They are. First, we've had very robust conversations with our US Senators and Congresspeople in advance of the aid package going through Congress, to make sure that it did have some things in the package that will get down to the local communities, as quickly as possible. Second, when we met with the Vice President and since then we have made it very clear that there's both short term and long term things that we need as a community. Everything from emergency medical teams to making sure that we had enough medical equipment, like masks and ventilators, to meet the need.
I think that we will continue to hope that the message we got from the Vice President is what happens. It is so critical during crises, that we speak as one government, so the public knows what to expect and what's going to be done.
Q: Italy is restricting travel within the country. Do you think the federal government should be following suit to slow the spread of COVID?
A: This virus is already in most parts of America. The question now is "has it been detected at day 1 or day 30?" You can have very different strategies if you catch it at day 1 than day 30. I think the most important thing the federal government needs to be focusing on is making sure that every city in America, large and small, has a playbook, and that playbook starts with testing and says the minute you have your first patient you contain. Then you quickly have built your strategies to mitigate if you can't contain. That is going to be the most effective way that the federal government can help America in fighting this disease.
Q: Much of the response here was first championed by local government, especially by the city. Are there any lessons that you can impart on other cities that are just confronting this?
A: First, you have to pay attention to your front line—health care workers, hospital system and first responders. Second, you need broad-scale testing to know the scope of the issue you are dealing with so you can design strategies for containment and mitigation. Nested within each of those, are strategies you have to implement quickly. The other thing that is very important, is that no city goes it alone. They've got to coordinate with each other and with county and state officials. This virus knows no boundaries and you have to have consistent strategies, or you won't deal with it effectively.
Q: You mentioned that we will rebuild and when we get to the other side of COVID. What does Seattle and the country look like after COVID?
A: If you look at other countries who've already experienced the outbreak of this virus, we have to expect that it's going to have a significant scope and duration. We have to plan for that.
For example, in Seattle you have people who are not in the downtown core because they are working from home. They are working and they are innovating. They are planning on what they do when their companies and their supply chains are disrupted, under any range of scenarios. I think as a country that there will be some economic impacts that people haven't anticipated both because of disruption in supply chains and the consumer market. But, at the same time, I think Americans and Seattlites have a much more robust resiliency built into our economic framework. Because we are able to work and innovate virtually, technology will be able to solve problems and find customers and businesses. Though I think there is no question, and you are seeing it in the markets, there is going to be a downturn…I anticipate that we will come out and that there will be a rebuilding phase. But I think that Seattle will be strong and that America will be strong.
Q: Is there anything else that you might want to add?
A: One thing I would say is that in the day where everything is breaking news and with social media things go viral, I think that sometimes people don't appreciate when something is significant and will be significant for a long period of time. I think that this event is probably one of the most transformative and consequential events that our region and our country will experience in a very long time.
[ad_2]

Read more…