[ad_1]

President Donald Trump was in his element Saturday, walking onto a stage before thousands of enthusiastic attendees of this year's Conservative Political Action Conference to the tunes of "God Bless America."
Coming from the White House, where he'd just given a press conference on updates involving the deadly coronavirus, the president pivoted to focus much of his nearly hour-and-a-half-long speech on ridiculing his perceived political foes—including Democratic hopefuls vying to unseat him—and touting administration achievements.
Trump fully embraced CPAC's "America vs. Socialism" theme as Republicans try to paint Democrats in the run-up to November as a party increasingly open to socialism because of the lead Vermont Senator Bernie Sanders, a self-described democratic socialist, boasts in the Democratic primary.
"Far-left radicals have become increasingly desperate and increasingly dangerous in their quest to transform America into a country you would not recognize, a country in which they control every aspect of American life," Trump said.
He accused Democrats of wanting to "impose a fanatical code of political correctness, bombard our citizens with fake news propaganda and implement policies that would turn America very quickly into a large-scale Venezuela."
"They want to take away your money, take away your choice, take away your speech, take away your guns, take away your religion, take away your history, take away your future and take away—ultimately—your freedom," Trump continued. "But we will never let them do that."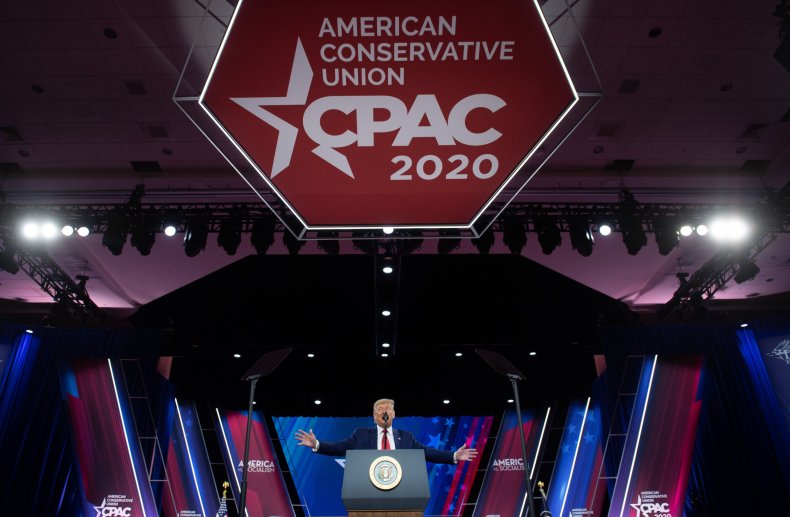 The president's rhetoric was reminiscent of that in which he deploys in campaign rally speeches across the country. The anti-socialism messages resonated positively with the CPAC crowd and were reflective of what Republicans on Capitol Hill frequently claim, which is that Sanders' dominance of the primary means Democrats are one step closer to implementing a socialist agenda to strip Americans of their basic rights and radically transform the government.
Such accusations against Democrats is nothing new for Trump, Republicans or CPAC. But it does come at a time that also serves as a convenient political re-election strategy and is no coincidence, argued GOP strategist Susan Del Percio.
"They're doing it for campaign purposes, and they're not wrong to do it," she told Newsweek. "It's something a majority of voters do not support. They don't mind throwing the bums out, what they do mind is a big change in our government system moving from capitalism to democratic socialism."
With each primary or caucus where Sanders grows his delegate lead, so too does the concern and fear among Democrats that a democratic socialist at the top of the ticket will jeopardize their House majority, not to mention quash their hopes of ousting Trump. It's becoming increasingly likely Sanders will muster a delegate plurality and not a majority, which would trigger a contested convention.
All signs indicate such an event would be chaotic and divisive for the party as some moderate and vulnerable House Democrats are already discussing how to prevent Sanders from becoming the nominee by using the rules governing a contested convention.
Combating the anti-socialism message may be challenging for some Democrats in swing districts. The economy is the Republican Party and Trump's "best messaging tool," said Del Percio. And a Sanders nomination allows critics to capitalize on how progressive proposals like Medicare-for-All, the Green New Deal and wiping out all student loan debt may play an impact on the country's strong economic status.
"By comparing [the economy] to Bernie Sanders and what he wants to do, it's fantastic for [Republicans]," Del Percio said. "It's a good, strong messaging tool."
The president continued to embrace the idea of running against Sanders in his Saturday remarks.
He deployed an unofficial poll by asking the CPAC attendees to cheer for which Democrat they would most like to see go head-to-head against Trump in the general election. The crowd was loudest at Trump's mention of Sanders.
"How could you be easier to beat than Joe? That guy can't put two sentences together, it's insulting," Trump said of former Vice President Joe Biden. "But you know, he is more down the middle. Everyone knows he's not a communist and with Bernie, there's a real question about that. But he's definitely a radical-left socialist Democrat, and people know that."
[ad_2]

Read more…