[ad_1]

The United States now has the third-highest number of coronavirus cases in the world, following behind only Italy and China, new data shows.
In recent weeks, the spread of COVID-19 has continued to expand across the country, with the U.S. seeing a total of 26,747 confirmed cases as of Sunday morning, according to an online tracker maintained by the Johns Hopkins University. At least 340 of those cases have resulted in death, with New York and Washington state sharing the brunt of those deaths from the new coronavirus, with 94 and 76, respectively.
The numbers represent a significant rise from earlier this week, with confirmed cases doubling since Thursday, when the U.S. had seen 13,000 people affected.
The surge in numbers could be connected to the expanded rollout of testing in the U.S., with President Donald Trump announcing on Wednesday that further steps would be taken to broaden testing services.
Officials had warned at the time that the expansion of testing could see more positive cases identified in the U.S.
New York Governor Andrew Cuomo was among those to warn Americans they would see a surge in numbers, with the governor saying at a press briefing on Thursday that the city had tested 22,000 people, with 7,500 of those being tested on Wednesday alone.
"Why are you seeing the numbers go up? Because you are taking more tests," Cuomo said, according to FOX News. "People see those numbers go up, they get nervous, they panic. 'Look at how many more people have the virus.' That's not how many more people have the virus, you're just taking more tests so you're finding more positives."
Still, the number of confirmed cases in the U.S. has raised alarm, with NYC Health Commissioner, Dr. Oxiris Barbot, warning that a daily death toll in the double digits could become a norm in the city.
"I wouldn't be surprised if we get to a day when we have double-digits new people dying every day," she said at a City Hall press conference on Friday.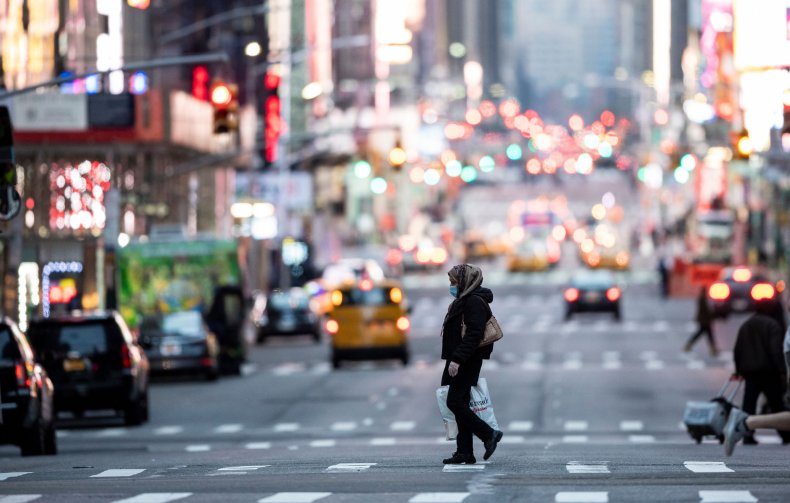 The growing spread of the virus has seen the U.S.'s number of confirmed cases surge past those in Spain, Germany, and Iran, which had also seen numbers soar in recent weeks.
As of Sunday morning, Spain had seen a total of 25,496 cases, Germany had 22,364, and Iran had 20,610.
The numbers of coronavirus-related deaths, however, are higher in Spain and Iran, with the former country seeing 1,381 deaths as of Sunday and the latter seeing 1,556. Germany, meanwhile has seen 84 people die as a result of the virus.
The U.S. is still tens of thousands of cases away from reaching the numbers seen in China and Italy, with China seeing 81,349 cases, with 3,265 of those resulting in death, while Italy has seen 53,578 cases, with a higher number of deaths: 4,825.
Globally, there have been at least 307,297 confirmed cases, with at least 13,049 confirmed dead.
[ad_2]

Read more…