[ad_1]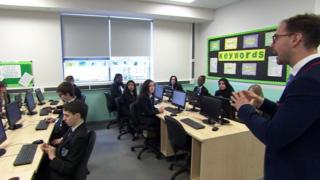 Keeping schools open as growing numbers of staff have to self-isolate amid the coronavirus epidemic is the most pressing challenge facing schools, head teacher leaders have warned.
Leaders from the two main head teacher unions say there may be too few staff available to teach and supervise.
The government policy remains schools should stay open although closures may be necessary "at the right stage" of the outbreak.
Heads say things are "very difficult."
The general secretaries of the Association of School and College Leaders and the National Association of Head Teachers met England's Education Secretary, Gavin Williamson, late on Monday.
In a joint statement, Geoff Barton and Paul Whiteman said: "This is clearly a very difficult situation and a very challenging scenario for school leaders – and the government is well aware of our concerns.
"We will continue working with the government to identify and tackle a number of issues for schools and colleges arising from the coronavirus emergency.
"The most immediately pressing challenge is the difficulty in keeping schools open with growing numbers of staff having to self-isolate.
"It is likely that a number of schools will have to close because there are too few staff available to teach, support and supervise children."
They also expressed concern about the implications for pupils with special educational needs and disabilities, those children who received free school meals and those from vulnerable families.
Ofsted inspections
"There is also the crucial question of [national curriculum tests] Sats, GCSE and A-level exams, which are scheduled in May and June," they said.
"We must move quickly to provide clarity and address the obvious anxiety for pupils, families and staff about what may or may not happen, and what contingencies are in place to deal with the inevitable disruption.
"We have also asked today that routine Ofsted inspections and school performance tables are suspended this year to allow schools and colleges to focus on the national mission of coping with this unprecedented situation."
The unions said the meeting was productive and they expected to hold further talks with the secretary of state and his officials later this week.
UK chief scientific adviser Sir Patrick Vallance said on Monday while it "may be necessary" to think about school closures, this should be only "at the right stage" of the outbreak.
Over the weekend, the National Education Union wrote to England's schools watchdog, Ofsted, asking it to stop conducting inspections.
The letter says: "We are very concerned, given the serious challenges that Covid-19 poses for schools, that Ofsted is still planning to conduct inspections.
"We fail to understand that, in light of the government's decision to move to the 'delay' phase, Ofsted has revised its deferral policy to defer inspections on providers that are 'affected'.
"We have to ask the question – can you name any school in England which has not been affected by Covid -19?"
But Ofsted says all requests for deferred inspections will be looked at "very favourably".
A spokeswoman said: "The spread of Covid-19 poses serious challenges to schools, colleges, childcare and social care providers – not least the potential impact on attendance and staffing.
"In light of the government's decision to move to the 'delay' phase, we have amended our deferral policy so we can now defer inspections of affected providers.
"We are proactively asking schools and all other types of providers we monitor, if they want to request a deferral because of coronavirus, and we will look very favourably on all such requests."
[ad_2]