[ad_1]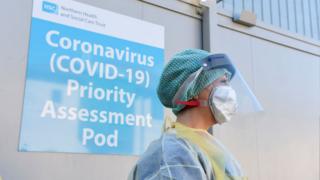 There has been a second coronavirus-related death in Northern Ireland, the Department of Health has said.
The department said the patient, who was elderly and had an underlying health condition, was being treated in hospital for Covid-19.
Health Minister Robin Swann said the news should "bring it home to every one of us that coronavirus is a real and present danger".
There have now been 128 cases of coronavirus in Northern Ireland.
That is a rise of 20 cases from Saturday.
At a press conference on Sunday evening, Boris Johnson warned the public to take seriously the social distancing advice to stop the spread of coronavirus, saying it is "absolutely crucial".
The PM thanked people for "the sacrifice" they had made, but warned those going to parks and open spaces they must stay 2m away from others.
"If you don't do it responsibly… we will have to bring forward further measures," he said.
Earlier, First Minister Arlene Foster said legislation being passed at Westminster will allow the government to enforce social distancing.
Speaking on BBC's Sunday Politics programme, Arlene Foster said enforcement was needed in some cases to prevent the spread of coronavirus.
Mrs Foster said the country "doesn't want to have to go down that road".
However, she added, in some cases "we are going to have to enforce it".
Her comments came after Mrs Foster and Deputy First Minister Michelle O'Neill appealed for people to maintain social distancing on Mother's Day.
Meanwhile, Mrs O'Neill, who also appeared on Sunday Politics, told the programme she believed all non-essential services should be shut down to prevent the spread of the virus
She called on employers of all non-essential workers to allow staff not to have them travelling and working.
"Anybody who's not on the frontline providing food, providing pharmacy services, anybody who's not in that category – I believe you should be shut down," she said.
"Employers that are still asking their staff to come into work, if you're not an essential service please shut down."
While there has been a large-scale shutdown across Northern Ireland, some businesses remain open and events have gone ahead.
One example, Nutts Corner Market which opened on Sunday morning, attracted criticism from politicians on social media.
Writing on Twitter, Ulster Unionist leader Steve Aiken and Justice Minister Naomi Long questioned the decision to open.
On Facebook, the organisers said they were opening "just like shops or supermarkets" and encouraged those attending to follow public health advice.
Elsewhere on the wide-ranging Sunday Politics interview:
Mrs Foster said that testing will be increased beyond the 800 tests per day previously announced by Health Minister Robin Swann
She also said that there are plans to make all private hospital beds available to assist in dealing with the outbreak
Mrs O'Neill said action needed to be taken to help self-employed people not covered by Chancellor Rushi Sunak's wage relief measures
'Do not put mummies at risk'
On Saturday night, Mrs Foster and Mrs O'Neill, in a joint address, asked people not to visit their mothers, with Mrs O'Neill saying it was a "Mother's Day like no other".
Boris Johnson also appealed to the public not to visit loved ones on Mother's Day.
"Everyone loves their mummy. I know that I do," said Mrs O'Neill. "And on Mother's Day, we normally make a big effort to spoil them and spend time with them.
"This year we are asking you not to put your mummy or anyone else's mummy at risk. Please maintain the social distancing the Public Health Agency have asked you to do."
DUP leader Mrs Foster said it was normally a day when "children of all ages say thank you to their mums", but that this year would be "very different for all of us".
She thanked all those "mothers, sons, daughters, grandchildren or great-grandchildren who are engaged this Mother's Day, and every day, in the service of others."
On Friday, health officials confirmed 22 new cases of Covid-19 in Northern Ireland, bringing the total to 108. One person has died.
According to the latest figures, there are more than 5,000 confirmed cases of coronavirus in the UK.
The number of people with coronavirus who have died is now 220 in England, seven in Scotland, five in Wales and one in Northern Ireland.
There were 102 new confirmed cases in the Republic of Ireland on Saturday, bringing the total to 785. Three people have died.
A senior nurse in Northern Ireland has called for widespread coronavirus testing of all key health workers in order to maintain a functioning health service.
Schools in Northern Ireland are closed from Monday due to coronavirus but should reopen for key workers' children.
In other key developments in Northern Ireland on Sunday:
[ad_2]