[ad_1]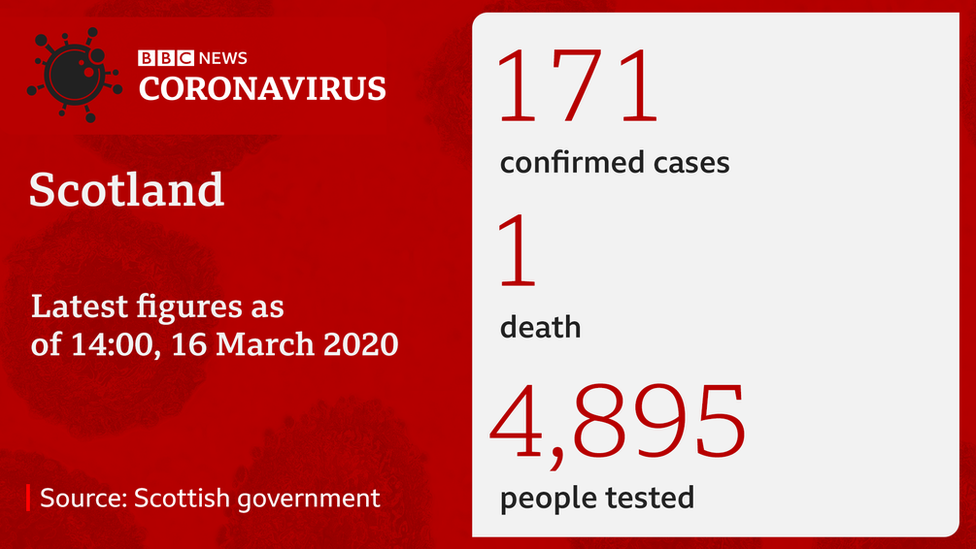 The number of coronavirus cases in Scotland has risen to 171, the Scottish government has confirmed.
The latest figures represent an increase of 18 on Sunday and brings the total tested to 4,895.
The number of cases in Greater Glasgow and Clyde remains the highest in the country at 44.
Monday's figures also reveal the first case of Covid-19 has been recorded in Dumfries and Galloway.
Only two of Scotland's 14 health boards, Orkney and Western Isles, have yet to record a positive case.
The number of UK coronavirus deaths, which includes the first in Wales, is now 36.
Most of those who have died in the UK have been people over the age of 60 with underlying health conditions.
The total number of people in the UK to test positive for the virus has risen to 1,543, according to the latest Department of Health figures.
More than 42,000 people have been tested.
Meanwhile, Scotland's national clinical director said the NHS has enough ventilators for the beds it has at the moment.
Speaking on BBC Radio Scotland's Lunchtime Live Prof Jason Leitch also said it would have sufficient ventilators for when the country's intensive care capacity is doubled over the next few weeks.
He said: "Everybody is going to have to change the way they behave and work over the next while and the health service is no different.
"We are going to have to morph the health service into a slightly different version for the next two to three months."
'Viral spread'
Prof Leitch said this would partly be achieved by cancelling scheduled non-emergency surgery, such as hip replacements and cataract removal.
He stressed the NHS has enough oxygen to cope with a spike in patient numbers.
Prof Leitch also told the programme he was comfortable with schools remaining open.
He added: "Looking at the science, school closures – blanket school closures – don't help us unfortunately with viral spread.
"School closures have a cost and the cost is that the kids have to be looked after and will meet somewhere else."
[ad_2]