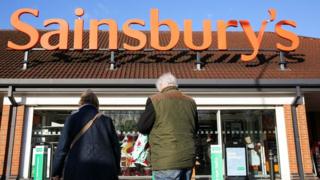 Sainsbury's has said it will prioritise vulnerable and elderly people for online deliveries and limit people to only buying three of any single item.
Sainsbury's boss Mike Coupe said the firm "is trying to make sure everyone has access to the items they need."
The move comes as supermarkets continue to try to stop customers stockpiling.
Aldi has already introduced limits of four items per shopper on all products, while Morrisons has said it will expand its online delivery service.
Other retailers including Tesco and Boots have set limits on particularly popular products such as pasta, tissues and hand sanitiser.
Boots chief executive Sebastian James said the issue was not supply, but demand.
"No supply chain can survive a sudden, unexpected global ten-fold increase in demand. And what we thought was incredibly important was that as many people as possible could get what they actually needed," he told the BBC's Today programme.
Other businesses have also announced new measures to combat the coronavirus pandemic, including:
Amazon: The online retailer is stopping sellers from sending "non-essentials" to its US and UK warehouses to make space for sought-after baby products and groceries.
Pret: From Thursday the chain will no longer allow customers to sit in-store, "to reduce points of contact" in shops.
Supermarket chain Sainsbury's already had a two-item limit on its most popular goods, including toilet paper, soap and long-life milk. From 23 March, it said disabled customers and those over 70 will be given priority for online delivery slots.
And on 19 March the first hour of shopping will be dedicated to older and vulnerable people in its 600 UK stores.
The chain follows other supermarkets in introducing reserved time slots for the elderly. They include Iceland outlets across the country and all 39 Lidl stores in Northern Ireland.
Sainsbury's told the BBC that it would consider future dedicated shopping hours "in line with government guidance", after the one-off on Thursday.
Getting food onto shelves
Sainsbury's chief executive Mike Coupe added it was "focusing all of our efforts on getting as much food and other essential items from our suppliers, into our warehouses and onto shelves as we possibly can.
"We still have enough food for everyone – if we all just buy what we need for us and our families."
Mr Coupe confirmed that it was closing its cafes as well as its fish, pizza and meat counters to free up more staff to work on "keeping the shelves as well stocked as possible."
The move came as Transport Secretary Grant Shapps signed off a temporary relaxation of drivers' hours rules to deliver goods to stores around the UK.
A Department for Transport statement said the rule change applies only to drivers supplying food and "essential products to supermarkets".
Sainsbury's competitor Morrisons said on Tuesday it is creating 3,500 jobs to meet surging demand for its home delivery service caused by the pandemic.
The chain said it would be recruiting 2,500 pickers and drivers and hiring about 1,000 people to work in distribution centres.
In its preliminary results for the week ending 2 February, its chief executive David Potts said retailers were "facing unprecedented challenges" when dealing with Covid-19.
25 Total Views
1 Views Today