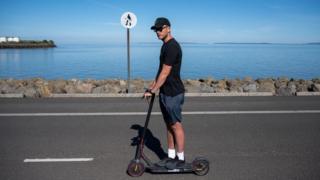 With people told to avoid public transport, the government's hoping to trial e-scooter rental schemes – possibly by the end of June.
But what are e-scooters and where can they be used?
What is an e-scooter?
They're two-wheeled scooters with small, electric motors.
Their popularity has grown and scooter-sharing schemes now operate in more than 100 cities around the world – including San Francisco, Paris and Copenhagen.
People can hire e-scooters, often using smartphone apps, in a way similar to city centre bicycle hire schemes.
Electric scooters are freely available to buy in the UK online and in stores, and they cost anywhere from just over £100 to more than £1000.
Are e-scooters legal in the UK?
Currently, you can buy one but you can't ride it on a UK public road, cycle lane or pavement. Anyone who does is committing an offence.
The only place an e-scooter can be used is on private land, with the permission of the landowner.
At the moment, they are classified as Personal Light Electric Vehicles (PLEVs), so they're treated as motor vehicles and are subject to all the same legal requirements – MOT, tax, licensing and specific construction.
So, because they don't always have visible rear red lights, number plates or signalling ability, they can't be used legally on the roads.
The law covering e-bikes – which are battery-assisted pedal cycles – doesn't currently cover e-scooters, but the government wants to regulate them in a similar way in future.
Normal scooters, those without motors, are not allowed on pavements or cycle paths – but they can be used on roads.
So how will the e-scooter rental trial work?
The Department for Transport wants e-scooters rental schemes – similar to those seen in European cities – tried out across England, Wales and Scotland.
Riders wouldn't need to take out their own insurance to hire an e-scooter, but they would need a driving licence or at least provisional one.
The hired vehicles could be used – legally – within set geographical boundaries.
It would still be illegal to use a privately-owned e-scooter on a public road, even if you were in a trial area.
The government says it will monitor safety and keep the year-long scheme – part of a £2 billion plan to invest in greener travel – under review.
Where will the trials be?
We don't know at the moment.
As well as bringing forward the start date to the end of June, the government has – in light of the coronavirus crisis – widened the scope of the scheme across the whole of Great Britain.
Initially, four "future transport zones" were chosen for the trials – the West Midlands; Portsmouth and Southampton; the West of England Combined Authority (Bristol, Bath and surrounding areas); and Derby and Nottingham.
The Department for Transport says: "A high number of areas across Great Britain have expressed an interest in running e-scooter trials."
Can I be fined for using an e-scooter?
If you were to use a hired e-scooter outside of any of the trial areas – yes, you could be fined.
Likewise, if you use a privately-owned e-scooter on any public road, cycle lane or pavement.
You could get a £300 fixed-penalty notice and, if you have one, six points on your driving licence.
Are they safe?
Electric scooters can exceed 30mph (48.3km/h), although many are limited to 15.5mph (24.9km/h).
Television presenter Emily Hartridge is believed to be the first person to die in an accident involving an electric scooter in the UK.
There are no official tallies on global deaths and injuries, but there have been a number of studies:
Some e-scooters have only a single brake, which makes stopping safely more difficult.
Who backs e-scooter legalisation?
There are strong advocates for the introduction of electric scooters in the UK.
The London Cycle Campaign (LCC) said: "The arrival of e-scooters offers a cleaner, low carbon alternative to cars and buses for those who can't or don't want to cycle."
"LCC is calling for e-scooters to be legalised and allowed to use cycle tracks rather than be used on pavements."
6 Total Views
1 Views Today