City throws open its doors to welcome visitors from all around the world, He Qi reports.
Featuring a green mountain, the Shimao Quarry Hotel, a telescope, buildings, bicycles and flowers, the float of the Sheshan National Tourist and Holiday Resort was among the most impressive at the opening parade of the Shanghai Tourism Festival on Sept 14.
According to the resort, which was showcasing a float for the first time at the festival, which runs through Oct 6, the decorative platform had to be redesigned multiple times due to safety concerns arising from the number of elements on it.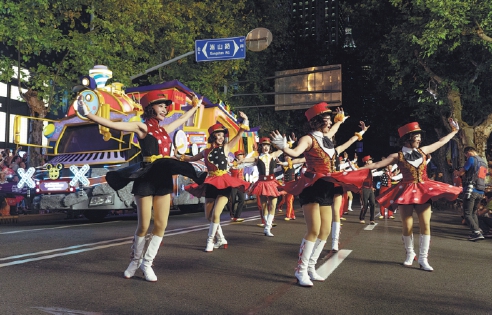 "Since Songjiang district has launched many landmarks in recent years, we wanted to integrate and promote as many of our resources as possible," explains Zhou Yan, deputy director of the Sheshan National Tourist and Holiday Resort's management committee.
"We have the highest mountain in Shanghai, the world's deepest subterranean five-star hotel, the relics of Jiangnan culture, an astronomical and seismological observatory, a botanical garden and many ecotourism resorts. We wanted to display them all to show that Sheshan is the backyard of Shanghai."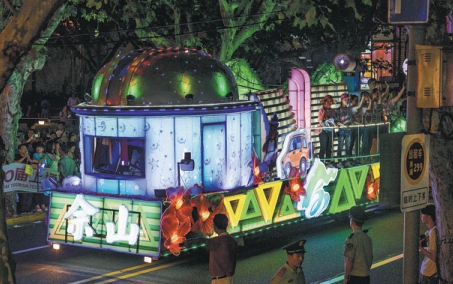 The float parade has been one of the most anticipated segments of the festival since the first float made its way through People's Square in 1993. This year, the parade kicked off at the Shanghai Times Square on Huaihai Middle Road.
Themed "70 Years of Glory, Beauty and Joy", the parade featured 1,500 performers and 25 floats from 19 countries and regions.
As the host city, Shanghai brought out the floats from theme parks, high-end resorts and local brands, including Shanghai Haichang Ocean Park, Sheshan National Tourist and Holiday Resort and jewelry company Lao Feng Xiang.
Follow China.org.cn on Twitter and Facebook to join the conversation.
ChinaNews App Download
Resurce:China Daily