MANILA, Philippines — It was perhaps the folly of age that made me decide to visit Shanghai Disneyland. It was the Mid-Autumn Festival, Friday the 13th, with summer showing no signs of giving way to autumn. It was a major holiday throughout China, a three-day weekend, and we expected hordes to visit the park. Our China Panorama guide told us that just to go through the initial security check could sometimes take up to two hours!
We were pleasantly surprised though at the relatively short lines at the entrance; it took us about ten minutes to get through security. Turns out that though it was a holiday, ticket prices remained high at RMB499 (about P3,500) for a day pass (seniors get a discount). The next day, we were told, tickets would be at half price, a promotion courtesy of the Shanghai tourism bureau.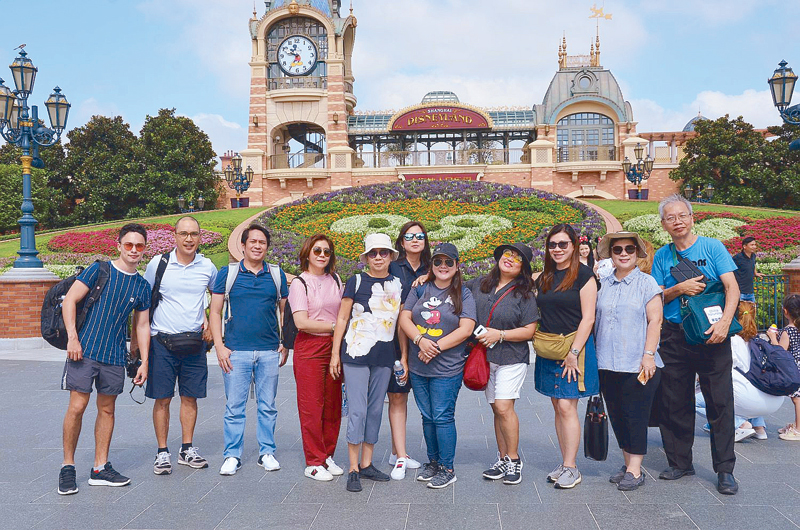 Part of the China Panorama group at the entrance to Shanghai Disneyland.
The 3.9-square kilometer Shanghai Disneyland is divided into seven themed areas, each with its own rides and attractions, shops and dining facilities: Pixar Toy Story Land, Tomorrowland, Gardens of Imagination, Mickey Avenue, Fantasyland, Adventure Isle and Treasure Cove. Right next to the park proper there is a Disneytown, with shopping, dining and entertainment options, including the massive World of Disney Store, a dizzying display of commercialism where anything and everything Disney is available – certainly a nightmare for parents but a paradise for kids.
Throughout the park are stores and kiosks selling brightly colored merchandise, particularly hats, headbands and other headgear featuring all permutations of mouse ears – polka-dotted, glittery, those that light up or bounce…everything to get you into the Mickey-sphere. And throughout the park speakers play chirpy, happy music, bubbles are blown from machines and strategically placed fans are a much welcome feature.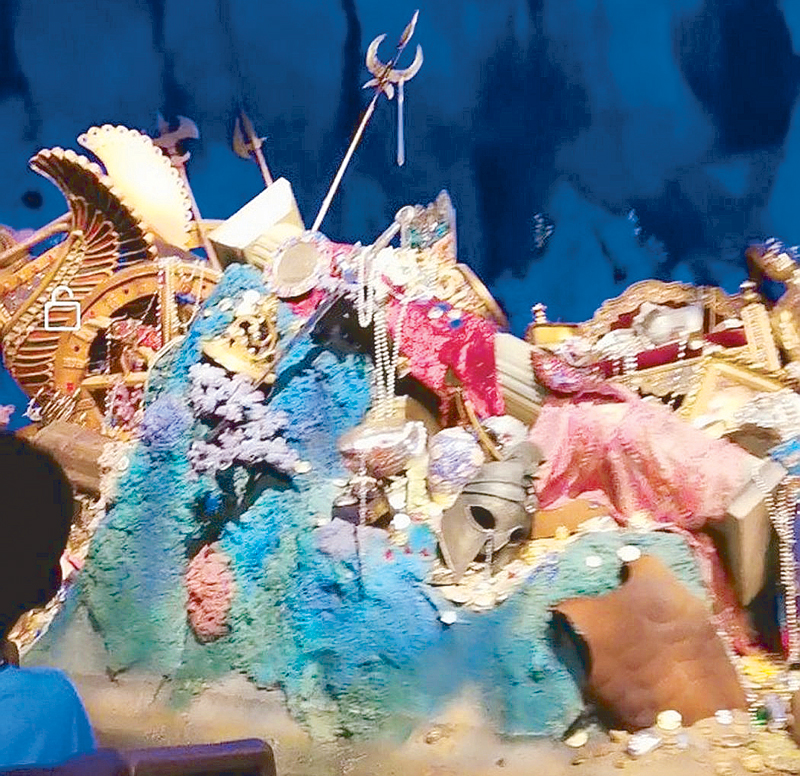 Some of the treasures at the Pirates of the Caribbean ride.
If you're a FitBit junkie and religiously mind your daily 10,000 steps, your gadget will buzz and ring with joy here as you have no choice but to walk – even under the 32ºC sun – from attraction to attraction. Be sure to get a map at the information booth at the entrance so you can strategize how you are going to attack the attractions. There is an app you can download onto your phone that gives tips on how long the wait is for a particular ride or show; physical signs throughout the park also offer this helpful information.
The centerpiece is the Enchanted Storybook Castle, located right in the middle of the park between Gardens of Imagination and Fantasyland. The garden amphitheater in front of the castle is where the Golden Fairytale Fanfare show is held, a musical extravaganza featuring Disney princesses – which we unfortunately missed, since they don't post show schedules, so be sure and ask.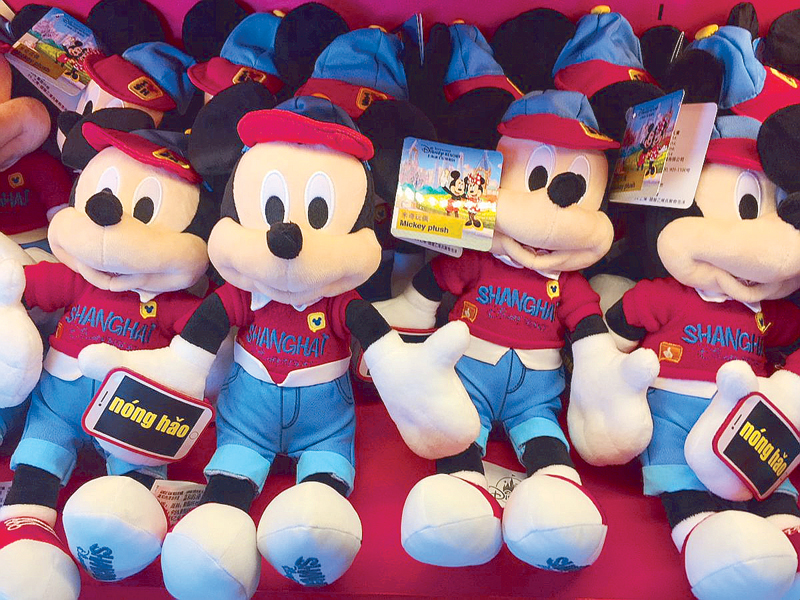 Bring home a Mickey cuddly toy from the World of Disney Store.
My friend Jean and I made it to Tomorrowland, lured by the futuristic Tron Lightcycle structure. But one look at those cycles racing along on the twisting open track made us do an about-face, so we headed to the Jet Packs, a very sedate but futuristic-looking version of the old octopus ride at the local perya.
We took in the Frozen sing-along show in Fantasyland, which was nice but everything was in Chinese so we were not able to sing along. Over at Treasure Cove something about the stunt show featuring Captain Jack Sparrow was lost in translation, but the Pirates of the Caribbean's Battle for the Sunken Treasure ride was a real thrill, a sensory adventure that takes you through tunnels and caves, under water and on the high seas in search of Davy Jones' treasure. Don't miss this one!
The Tron Lightcycle is the fastest ride in the park.
Before the trip I set my mind on doing It's a Small World, but alas! you won't find this in Shanghai Disneyland. And don't look for Space Mountain either. All in all, for a theme park non-fan like me, it was fun to spend the holiday in this happy place, "authentically Disney and distinctly Chinese… a source of joy, inspiration and memories for generations to come," as Disney CEO Robert Iger said when the park opened in June 2016.
*    *    *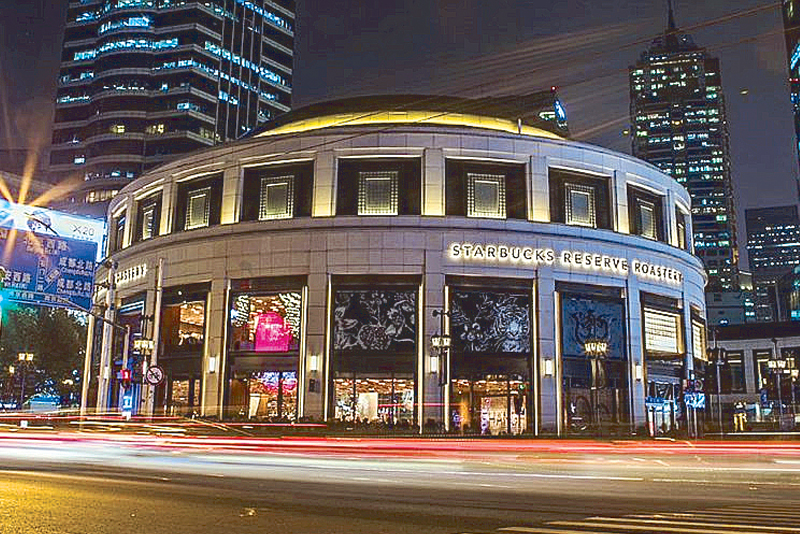 Starbucks Reserve Roastery in Shanghai. starbucksreserve.com
Back in the city, other attractions beckoned, chief of them the Starbucks Reserve Roastery on the busy intersection of Nanjing and Shimen roads. Although it is no longer the world's largest (Chicago now holds that distinction), the two-story roastery is still impressive at 30,000 square feet and boasts of the chain's longest coffee bar (one of three at the store) at 88 feet.
It is supposed to be "coffee as theater," and there are enough gizmos like beans snaking through tubes going up to the ceiling as well as a huge 40-ton bronze roasting cask, clad with 1,000 hand-carved Chinese chops (stamps) that tell the story of Starbucks and coffee. Much of the beans served here are grown in Yunnan province exclusively for the café.
There is also a tea bar (Tea-vana) with some very nice tea pots and cups and other accessories, and the Italian bakery Princi, with delicious stuff like croissants, muffins, focaccia sandwiches and pizzas.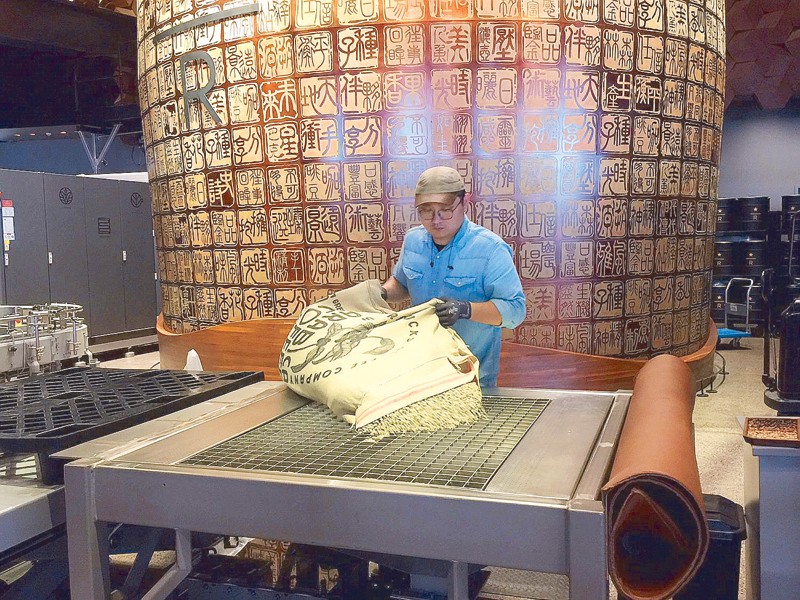 A man sorts coffee beans in front of the 40-ton roasting cask at the Starbucks Reserve Roastery in Shanghai.
And of course there is a generous area selling merchandize, everything from a bicycle to shirts, jackets, patches, tumblers, keychains…and, naturally, all kinds of coffee. And to think that this is only one of over 600 Starbucks locations – in Shanghai alone!
Of course we had mooncakes galore, in all colors and flavors, but what made this Mid-Autumn Festival quite special was Shanghai hairy crabs for dinner, a cholesterol-laden feast that makes you lose all sense of etiquette as you dismember the crustaceans with bare hands and… I will spare you the gory but scrumptious details and just wish you a belated Happy Mid-Autumn Festival!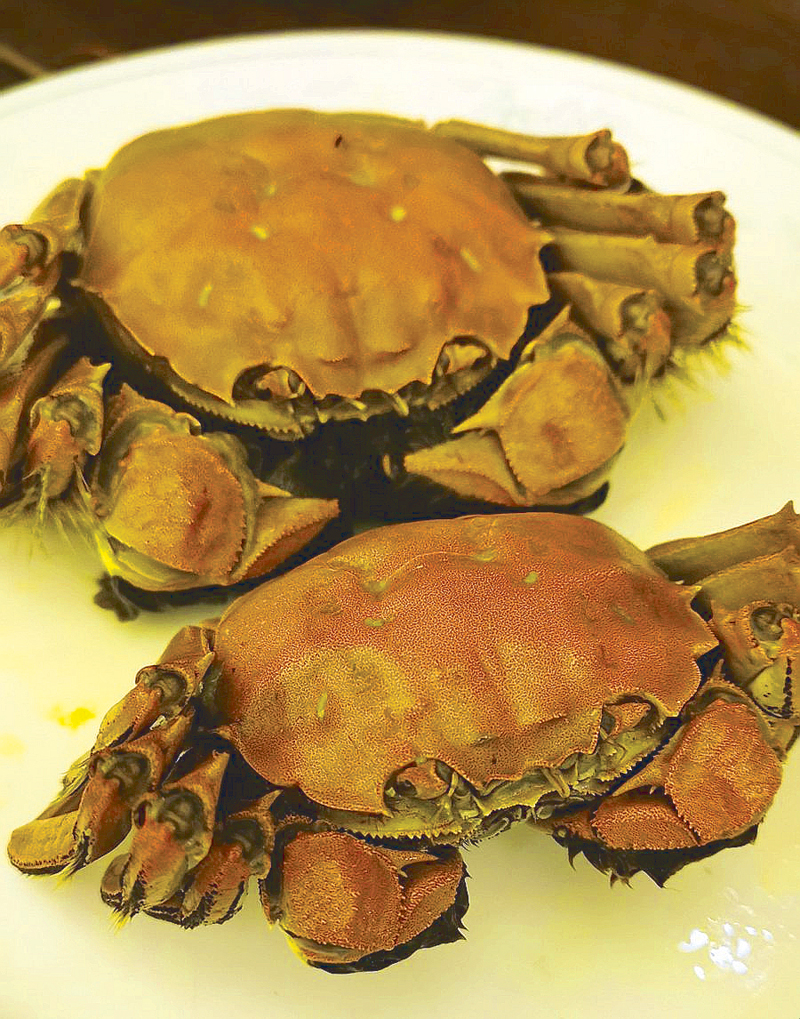 A pair of hairy crabs, in season at this time of year
For information on tours to Shanghai and other destinations in China, visit www.chinapanorama.com. PAL has daily flights to Shanghai.